Reading Time:
4
minutes
Data and analytics platforms are critical for healthcare organizations to aggregate data and gain actionable insights. With so many solutions on the market, hospitals need a clear view of which vendors can handle data complexity and deliver on promised outcomes.
The "Data and Analytics Platforms 2023" report from KLAS Research provides valuable insights into vendor performance based on real interviews and ratings from healthcare customers. With data analytics adoption growing, this report offers a timely look at how top solutions stack up. Keep reading for three key takeaways from the report.
1. Analytics solutions should drive tangible outcomes for hospitals
A top priority for healthcare organizations selecting an analytics solution is finding one that goes beyond just aggregating data to actually driving measurable outcomes. This clear measurement enables staff to make better-informed decisions tied directly to organizational goals. When evaluating analytics platforms, ensuring the vendor can deliver digestible metrics mapped to a hospital's specific desired outcomes is essential. Whether it's reducing hospital-acquired infections, improving medication adherence, or lowering readmission rates, an analytics solution should make it easy to monitor critical metrics and react appropriately.
Healthcare organizations cannot afford analytics solutions that produce clunky reports. The focus must be identifying partners that turn complex data into insightful, actionable metrics that tangibly move the needle on priorities. The KLAS report shows that Dimensional Insight stands out with top scores for producing easy-to-use metrics that help drive outcomes.
2. To lead with data, hospitals need a partner, not just a product
The report shows that healthcare organizations benefit most from analytics vendors that provide strategic guidance and support beyond just software. Customers value true partners who bring implementation expertise, provide executive-level involvement, and help guide the optimal use of analytics to drive outcomes. Dimensional Insight is highlighted as the top vendor for "keeping all promises," with the highest score of 95%, and has the highest vendor score on "product works as promoted." Dimensional Insight's commitment to relationships and reliability, 100% of customers reported they would buy the solution again. Any healthcare organization looking for analytics success should seek a vendor ready to be an active partner in leveraging data, not just providing technology. This involved approach leads to actionable insights and meaningful improvements.
Another key pillar for data success is the culture and relationship a vendor can provide to its customers. A foundational component lies in a vendor's ability to provide proactive, personalized customer support. Dimensional Insight received top scores for providing proactive service. This level of active partnership leads to more value and supports hospitals in making meaningful data-driven improvements.
3. Dimensional Insight continues to lead the pack in outcomes and functionality
Part of the KLAS report includes customer-reported vendor ratings, helping to paint a picture of how vendors perform in actual customer deployments. The ratings revolve around six customer experience pillars, and Dimensional Insight's solution scored stellar grades across the board:
Dimensional Insight is a top performer in the KLAS report, with users specifically highlighting the solution's broad capabilities, scalability to handle large data volumes, and continual upgrades to add new functionality. With its overall performance score of 91.8 out of 100, Dimensional Insight stands out as a leading analytics vendor. As an 8-time Best in KLAS winner since 2010, Dimensional Insight remains committed to supporting customers to meet their healthcare KPIs with the power of data. Overall, the report validates that Dimensional Insight empowers customers by providing the actionable insights they need to guide data-driven decisions and achieve organizational goals.
Conclusion
In summary, the right analytics platform can be a game-changer for healthcare organizations, helping them harness the power of data. However, success depends heavily on selecting the right technology partner. As the KLAS report shows, focusing on vendors that deliver outcomes-driven metrics, ease of use, partnership, and proven performance is key. With these factors in mind, healthcare organizations can implement data-driven decision-making and lead with analytics.
Learn more
KLAS subscribers can learn more about the data and analytics category by visiting the

KLAS website

.
Learn more about Dimensional Insight's award-winning KLAS performance

here

.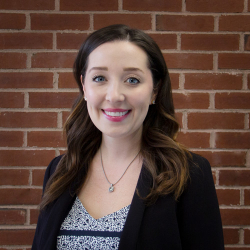 Latest posts by Lindsay Goldfarb
(see all)