Reading Time:
4
minutes
While some may believe that COVID-19 is a thing of the past, the numbers paint a starkly different picture. In the wake of relaxed COVID-19 restrictions and the emergence of new variants, the virus is making a forceful comeback. According to the latest CDC data, hospital admissions increased by 7.7% in early September, and deaths climbed by 4.5%. As the weather cools and people increasingly congregate indoors, coupled with schools reopening nationwide, we find ourselves in the eye of a perfect storm.
The convergence of elevated COVID-19 rates, the annual cold and flu season, and the rise of Respiratory Syncytial Virus (RSV) presents a perilous combination—a "tripledemic." Despite significant advancements in managing COVID-19 over the past few years, a surge in case rates can still destabilize hospital operations. So, how can healthcare institutions best prepare for this influx of patients and manage the next wave of COVID-19? The answer lies in leveraging data effectively
Tracking and reporting of COVID-19 cases
Accurate, real-time tracking of COVID-19 data is indispensable for hospitals to gauge their capacity, staffing levels, and supply chain readiness. Given the rise of new variants, like the BA.2.86 strain, it's crucial that healthcare institutions are equipped with comprehensive tools to monitor not only the number of cases but also the strains in circulation. Having raw data is just a starting point; what sets apart proactive healthcare settings from reactive ones is a unified, enterprise-level view of reliable, timely, and actionable data.
Advanced analytics allow hospitals to create heat maps pinpointing areas hardest hit by COVID-19. These geographical insights can reveal clusters of infections at an impressively granular level. Moreover, healthcare providers can delve deeper into the data to examine patient-specific information, such as age and pre-existing conditions.
In many states, hospitals are mandated to report COVID-19 case data to state health departments. This creates a reciprocal system: hospitals benefit from aggregate, state-level data to anticipate the impact of the virus on their operations. Simultaneously, the data they share supports broader community-based initiatives. To ensure this data is accurate and reported in a timely manner, hospitals must have robust systems in place for capturing and disseminating this vital information.
Managing hospital operations and patient care
Understanding the COVID-19 patient population and its impact on operations is essential for effective hospital management. A sudden influx of sick patients calls for agile resource allocation, staffing adjustments, and strategic capacity management. But data serves a more advanced purpose than just giving a snapshot of the current situation; it acts as a foresight mechanism for future staffing and resource needs, thereby ensuring optimal efficiency and patient care.
Hospitals can best triage patient care when they have a complete picture of their operations and COVID-19 patient population. Comprehensive analytics solutions can offer real-time insights into the number of COVID-19 patients—both suspected and confirmed—by capturing variables such as location, severity of illness, patient disposition, and testing results updated hourly.
Key metrics that should be on every hospital's monitoring dashboard include:
COVID-19 case classification (suspect, low, negative, positive)
Hospital area classification
Resource utilization rates
COVID-19 diagnostic testing
Communication and post-discharge planning
As hospitals are well aware, the CDC has issued guidelines for ICD-10 coding of COVID-19-related healthcare activities. Adherence to these guidelines is not merely a matter of compliance but serves as the backbone for accurate pattern tracking and proper reimbursement. Therefore, hospitals require sophisticated data management systems to meet these multifaceted needs.
Analytics solutions, like Dimensional Insight's COVID-19 post-discharge package, offer comprehensive measures and dashboards that provide a 360-degree view of patient discharge data. This holistic perspective is invaluable not only for post-acute care planning but also for assessing the quality of care delivered and identifying areas for improvement.
Conclusion
As the COVID-19 pandemic continues to evolve with new variants and shifting regulations, hospitals that stay agile and innovative will offer the highest quality of patient care. Thankfully, updated vaccine boosters provide a line of defense against emerging strains, which is crucial in curbing disease spread.
Data plays a critical role in this adaptive approach, providing hospitals with insights for resource allocation, optimized staffing, and treatment personalization. Armed with precise and actionable data, hospitals can be empowered not just to react but to proactively navigate the complexities of the impending "tripledemic" this fall.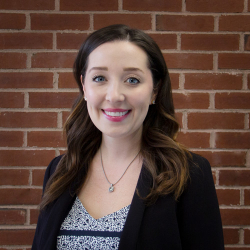 Latest posts by Lindsay Goldfarb
(see all)