Reading Time:
5
minutes
In recent years, healthcare has seen a shift to a value-based care model, as an increasing number of hospitals are focused on incentivizing providers based on patient health outcomes. In this new healthcare landscape, the delivery of high-quality, cost-effective care is paramount. According to the New England Journal of Medicine, in this new model of care delivery, "providers are rewarded for helping patients improve their health, reduce the effects and incidence of chronic disease, and live healthier lives in an evidence-based way."
But how do we measure the "value" of value-based care? That's where data and analytics come in. In fact, a Deloitte study of CIOs and CMIOs shows that more than 4 in 5 see value-based care as a key analytics driver. Read more for four ways analytics can support the transition to a value-based approach.
Tracking quality measures
In the value-based care model, providers are incentivized to deliver high-quality, cost-effective care, as payers reimburse them based on the value and outcomes of the care provided. Payers establish quality measures and goals that providers must meet to receive reimbursement, such as clinical practice improvement, resource utilization, and ensuring patients receive appropriate care without duplication of services.
But how do hospitals know when providers are meeting these goals? To track value-based progress, hospitals can use various clinical measures, including:
Hospital readmissions
Average length of stay
Mortality rates
Inpatient Quality Indicators (IQI)
Patient Safety Indicators (PSI)
Patient satisfaction
Through monitoring and analyzing these quality metrics, providers can identify areas for improvement and optimize care delivery, while also demonstrating their value to payers. Additionally, tracking quality measures can help providers reduce costs while still delivering high-quality care. To do so, hospitals need reliable, up-to-date data and advanced analytics capabilities to ensure they continue to meet quality standards. For example, in its shift to providing value-based care, Western Maryland Health System began tracking key quality indicators. By leveraging analytics, the hospital system was able to seamlessly shift from volume to value—substantially improving patient care and experiencing a positive revenue swing.
Provider performance measurement
In a value-based care environment, it is critical to measure provider performance to recognize and reward effective care delivery. Monitoring key metrics such as clinical outcomes, cost, and patient satisfaction can provide insight into how well providers are performing and whether they are meeting the goals of value-based care. Data on provider performance enables hospitals to identify specific opportunities for improvement at the physician, practice, specialty, facility, and organization levels by:
Comparing individual physicians to standard benchmarks, as well as peers within their practice, specialty, and facility.
Detecting outliers impacting organizational performance.
Identifying patterns across the organization that reveal best practices.
Understanding the impact of physician practice patterns on overall hospital performance.
Focusing on areas for improvement that most impact outcomes, cost containment, and revenue.
Collecting and analyzing provider performance data allows hospitals to identify their strengths and address areas for improvement to help them achieve their value-based care goals. However, effective performance measurement requires the right tools and resources to ensure that data is being leveraged appropriately. Utilizing a solution like Dimensional Insight's Provider Advisor can empower hospitals to measure performance and understand the value of health outcomes being achieved. With more than 100 standard quality, safety, and outcome measures, and analysis of more than 500 data elements, the solution enables hospitals to measure performance and drive value-based initiatives.
Resource optimization
Leveraging data to monitor resource utilization and operational efficiency is key to achieving value-based care objectives. To accurately understand margins and costs of services provided, hospitals need access to timely, reliable financial and clinical data. To optimize resource allocation, hospitals should measure:
Census and utilization levels—Tracking patient capacity levels can help ensure that hospital resources are distributed appropriately and optimize patient care.
Staff resource allocation—Monitoring staffing data can help address gaps in patient care and maximize staff resources.
Cost reduction—Using advanced analytics to bring together disparate clinical and financial data sources can help organizations reduce waste, cut costs, and improve value.
By effectively using data and analytics to measure resource utilization, hospitals can improve their bottom line while also delivering higher-quality care. Using a data-driven lens, hospitals can improve their operational efficiency, reduce costs, and deliver high-quality, cost-effective care, ultimately achieving their value-based care objectives.
Population health management
Meeting value-based care goals relies heavily on improving patient health outcomes—plus, having the data to show for it. In order to improve quality of care and patient experience, hospitals must track population-level data, including:
Identifying high-risk cohorts—By identifying patients at increased risk of disease burden and healthcare resource utilization, hospitals can implement effective intervention strategies and prevent adverse health outcomes.
Addressing Social Determinants of Health (SDOH)—Integrating clinical patient data with information on patient demographics and socioeconomic status can help identify potential disparities in access to and quality of care.
Measuring effective prevention and treatment methods—To prevent readmissions or mortality outcomes, hospitals can monitor data on which preventative or treatment measures are most effective.
By monitoring population health metrics, hospitals can better understand patterns in patient health outcomes and how to best deliver valuable, effective care. Utilizing data and analytics to monitor high-risk cohorts, address social determinants of health, and measure the effectiveness of prevention and treatment methods allows hospitals to improve the quality of care. Hospitals that implement population health analytics will be well-positioned to thrive in the value-based care landscape and deliver the best possible outcomes for their patients.
Conclusion
Value-based care is the future of healthcare, promising better patient outcomes and reduced costs. This shift away from fee-for-service payments will encourage a focus on data and analytics to measure health outcomes and identify opportunities for operational improvement. As healthcare continues to shift towards value-based care delivery, hospitals that want to succeed in this new landscape should view it as a clear call-to-action to prioritize and strengthen their analytics capabilities. By doing so, they can leverage the power of data to improve patient outcomes, enhance care quality, and reduce costs.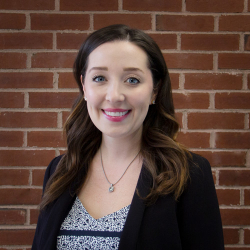 Latest posts by Lindsay Goldfarb
(see all)