Reading Time:
5
minutes
Dimensional Insight takes pride in our robust mentorship program, which offers exceptional opportunities for the brightest minds in data science and software engineering to join our ranks for a summer co-op program or internship. Recognized for our unwavering commitment to mentorship, Dimensional Insight was recently honored with the prestigious Northeastern University College of Engineering Co-op's 2022 Outstanding Co-op Employer Award. The mentoring initiative is spearheaded by Dimensional Insight's VP of Healthcare Solutions, George Dealy.
According to the Northeastern co-op team, "George has worked with Northeastern for more than five years, successfully hiring students for the co-op program and developing a presence on campus. George has conducted on-campus interviews, engaged in speaker sessions, and is always open to collaborate to provide Northeastern students with an invaluable experience."
Continue reading our Q&A with George to learn more about the success of the co-op program and how Dimensional Insight works with early careerists on innovative analytics solutions.

1. Can you give us an overview of Dimensional Insight's internship, co-op, and mentoring programs, and what they entail for participants?
We recruit both summer interns and longer-term co-op students to supplement our full-time staff. We look for candidates with a passion for working with information and technical skills in data science and related areas of study that involve assembling and analyzing data. Participants in the program go through a five-week onboarding process that prepares them to work with Dimensional Insight solutions. They then work on projects ranging from quality assurance of our healthcare decision support applications to demonstration creation to product development.
2. How did the idea for the program originate, and what inspired Dimensional Insight to create it?
We saw a fantastic opportunity to both supplement our staff with students who have been exposed to the latest ideas and technologies, as well as to prepare those students for careers in data and analytics, whether that be with our own company or other organizations.
3. What qualities do you look for in co-op applicants, and how do you select participants for the program?
During recruitment, we focus on strong quantitative critical thinking skills, a passion for working with data, excellent communication skills, and the ability and desire to work as part of a team. We participate in on-campus career fairs at certain colleges and post opportunities on college career sites such as HandShake. We work closely with local colleges to help recruit the best and brightest interns and co-op students for our programs.
4. How does the program help to prepare co-op students for future careers in the healthcare industry?
Our intern and co-op students learn to use the most current analytics technologies in the context of solving data-related problems that are specific to healthcare. That gives them a great head start if they choose to pursue careers in healthcare information technology-related fields. There's a lot to know about a lot of things when it comes to healthcare. Our program is an immersion in that world and a stepping stone for early careerists entering the field.
5. How does Dimensional Insight support and mentor co-op students during their time with the company?
In addition to the onboarding program, we assign a mentor from our full-time staff to each intern and co-op and include them in all team meetings and knowledge transfer sessions. They work side-by-side with our most experienced team members and quickly become proficient and ultimately self-sufficient in a wide range of tasks. Our mentorship approach helps to build industry-specific skills and cultivate career readiness for the participants.
6. Can you discuss any success stories or notable achievements that have come out of the co-op and mentoring program?
Two specific examples come to mind. 1) Our onboarding program was created almost entirely by our intern and co-op students. Everyone who goes through the program also has an opportunity to improve it for future participants. This approach has helped the program evolve into a highly collaborative and innovative opportunity. 2) Each year we go through a process of updating our healthcare applications to reflect the latest changes to standards maintained by government agencies. That program is largely managed and carried out by our interns and co-ops based on a process that passes down knowledge and improvements from year to year to ensure quality and consistency.
7. What benefits have you seen for both the company and the co-op students who participate in the program?
Dimensional Insight benefits through the invaluable contributions of our interns and co-op students to our technology products and industry-specific applications. The students benefit by working as part of a progressive and creative software development team. Graduates of our program have gone on to work at many of the most prestigious companies in information technology – including Dimensional Insight.
Interested in learning more? Check out our careers page for more information on internships, co-ops, and career opportunities with Dimensional Insight.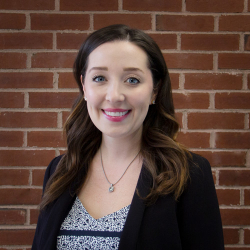 Latest posts by Lindsay Goldfarb
(see all)